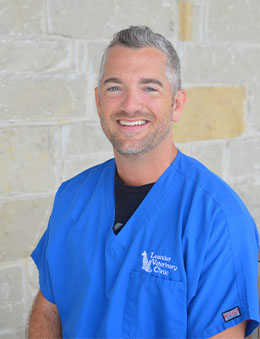 Dr. Brandon Mitchell, originally from Overton, Texas, studied for his Bachelor's Degree in Wildlife & Fisheries Sciences at Texas A&M University while serving as a member of the Fightin' Texas Aggie Band.
Dr. Mitchell stayed on at Texas A&M to receive a Master's Degree in Rangeland Ecology & Management in 2005 before accepting a place to study in the United Kingdom at The University of Edinburgh, Scotland. In 2010, he was awarded his degree in veterinary medicine and surgery and was also inducted as a member of the Royal College of Veterinary Surgeons.
After graduating he spent two years working in the United Kingdom as a mixed animal practitioner before returning home to Texas. Dr. Mitchell has been practicing in the Austin area since 2013.
Dr. Mitchell has a special interest in soft tissue surgery and dentistry. He enjoys spending time with his wife and their two dogs. During time off he likes cooking, films, fishing, camping and travelling.